Once upon a time there was Renault Megane, the sedan / wagon with traditional or plug-in hybrid engines. Today there is Renault Megane E-TECH Electric which has transformed into an electric crossover.
It is not excessive in design: is inspired by SUVs, but does it on tiptoe. We will see later that it is actually a "trick" to make it more comfortable despite the presence of the battery. This is a very smart move, just as smart is the whole electrical sector. However, there are some aspects that are not completely rejected, but are postponed to September …
INTERIORS: CABIN AND BOOT
Inside there is a leap forward … fortunately. The new electric Megane costs more than the old petrol Megane, and it had to be justified even in the interior. We never find interiors that are too precious, but the alternation of different materials, different finishes, more variegated colors allow us to have a completely different impression than before, and help to hide the terrifying and hated "rigid plastics" that exist anyway because we are not in the premium segment. Or maybe yes since the door pockets are lined with microfibre unlike some Audi?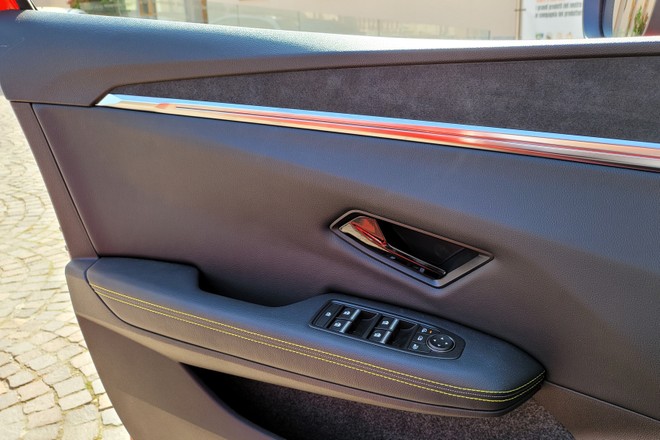 The practical modular central tunnel, the comfortable armrest with lots of space inside and the shelf for wireless charging that almost seems to communicate the new Renault course where the smartphone (and its interaction with the car) becomes central. Well done, too bad those stubborn Frenchmen don't want to take the volume satellite out from behind the wheel.
Behind it is comfortable: the pace is right, the space is a lot because the platform gives a lot of priority to the passenger compartment: the wheels are at the extremes and the overhangs are minimal. The trick concerns having improved the comfort for passengers in terms of height of the sofa. Many electric ones, having the battery pack, prevent the whole thigh from being supported because the sofa is lower than usual to keep space for the head. Here the combination of a crossover style (slightly raised car) and a very thin battery pack allows us to eliminate this problem and restore the habitability we are used to.
It loses points in acoustic comfort, you notice the rolling of the tires and some aerodynamic rustles that are actually present. It takes a step further in this aspect to really worry the premium world.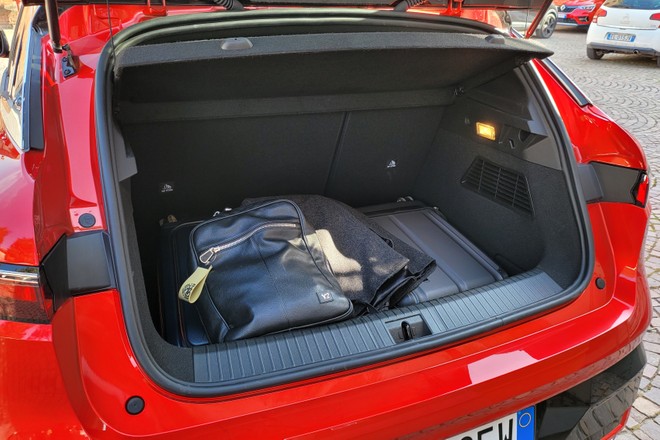 INFOTAINMENT (PERFECT) AND ADAS
Finally the perfect infotainment. In the past, Renault has given us many reasons to complain about the system used. They changed often but they never managed to hit the target. Until the turning point came: I understood that we needed professionals, they involved companies of the caliber of LG, Google, Qualcomm (Snapdragon Automotive Cockpit) e Continental.
Result? They hit the mark: the infotainment is really smooththe operating system is Android Automotive based on Android 10, there is the Play Store to download new apps, it is updated via OTA, the interface is easy and understandable, the screens are in high resolution and the integration between the central screen and the instrument screen is the right one. Not only is the map replicated behind the wheel, but there is also confirmation that the system is unique, integrated between the left and right screens. It is not something fake where one "hand" does not speak to the other. And everything is easy and intuitive and there are Android Auto Wireless and Apple CarPlay Wireless.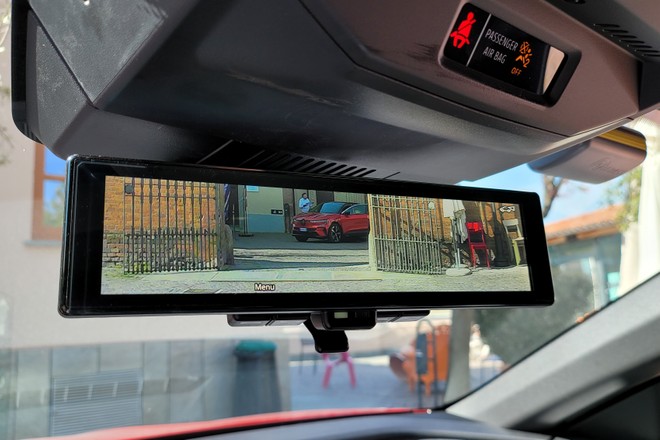 The same integration between one display and another can be found between the car and the on-board infotainment system. An example? The "maps" by Google they know how much autonomy we have, they know how we are using the car, how much we are consuming and why. Like this I am able to plan automatically charging stops along the way. Well done … too bad that the shiny effect of the screens is really excessive: many fingerprints, many reflexes, little honor.
There SIM is integratedis used for updates, but also to control the car remotely via smartphone app.
The ADAS are very good, even if we will have to try them again and for longer on the motorway. The equipment is complete, you have a Level 2 that with the anti-collision in case of emergency and the car is also able to avoid damage braking by itself (between 3 to 10 km / h) in reverse if we are about to hit an inanimate object.
The cruise control (adaptive) and the limiter are able to automatically set themselves on the speed read by the signal detection if we want, otherwise they can work with the classic manual adjustment.
BATTERY, CHARGING AND CONSUMPTIONS
Renault is one of the few that has always believed in 22 kW in alternating current. They were among the best with the on-board charger with the old generation, they continue to be with the new one. The 22 kW columns are finally usable: it matters little for those who have a garage, but it is essential for those who recharge on the street.
The battery is made with LG cells (Nickel, Manganese, Cobalt, NMC with less Cobalt), half the height of Zoe, weighs 395 kilograms and has active liquid cooling to handle it. This allows you to arrive up to 130 kW in continuous currenta, provided you choose the 60 kWh battery. Those who choose the 40 kWh are limited to charging at 85 kW in DC.
Mobilize Charge Pass is the single account with the card for all the columns, an ecosystem that offers a promotion of € 200 in two years for recharging and allows you to access IONITY with the discounted rate. In addition, it is possible to receive advice on installing the wallbox or columns.
With little freeway, Megane E-Tech Electric recorded approx 16 kWh / 100 kma good result that must however be confirmed with a longer test where we will test the performance on the motorway for longer to understand if the 60 kWh can also be a car made for traveling.
However, a first datum comes from one test in one quick sectionalbeit not completely motorway: here, with an average of 91.5 km / h and a 73 km route with many hills, the consumption recorded was 20.9 kWh / 100 km which corresponds to an autonomy of about 290 km under these conditions.
We can also confirm 360/375 km real with one rechargewith the doubt, however, that in flat conditions the Electric Megane will be able to do better, between 400 and 420 km of autonomy.
HOW IS IT GOING? ROAD TEST
With a brand like Megane, an all-new electric platform, an engine with instant torque and a steering wheel advertised as very direct, without forgetting the low center of gravity thanks to the battery, the new French electric could delight those looking for a little high crossover and so much fun to drive. Unfortunately (or fortunately) there is not that rigid setup I was looking for.
The shock absorbers are adaptive, but also in Sport it remains more inclined to comfort. These are personal tastes, however, because if you are looking for a car every day to make passengers feel good (and comfortable), here is Megane E-Tech Electric showing off all her charisma: little roll so as not to overwhelm those behind. , good absorption to take life with softness, easy to drive for when you lend it to those who are less savvy. However, that "quid" is missing: will we have to wait for a RS E-Tech Electric to get it?
The power is: 220 hp / 162 kW for the most powerful, the 60 kWh battery. The delivery is brilliant, but always sweet, never traumatic and yet able to make us carry out any emergency maneuver in safety, thanks also to a 7.4 s 0-100 km / h.
The steering is very directa lot of agility in the corners, but unfortunately such a setup it had to be associatedat least in Sport, to a higher load. Instead it is always very servo-assisted and it takes some time to adapt to a behavior that is unusual compared to most of the proposals on the market.
Guide to a pedal? Good, the paddles on the steering wheel are used to increase regeneration but it is a traditional setting and there is no real "one pedal". Braking? To be re-evaluated in the review.
MEGANE E-TECH ELECTRIC TECHNICAL SHEET
40 kWh battery / 60 kWh battery
TECHNIQUE
MOTOR: synchronous electric
POWER: 96 kW, 130 HP / 160 kW, 220 HP
TORQUE: 250 Nm / 300 Nm
TRACTION: front (2WD)
SUSPENSION: Pseudo MacPherson front, Multilink rear
BRAKES: 4 discs of 314 mm
CHARGER: AC 22 kW, DC 85/130 kW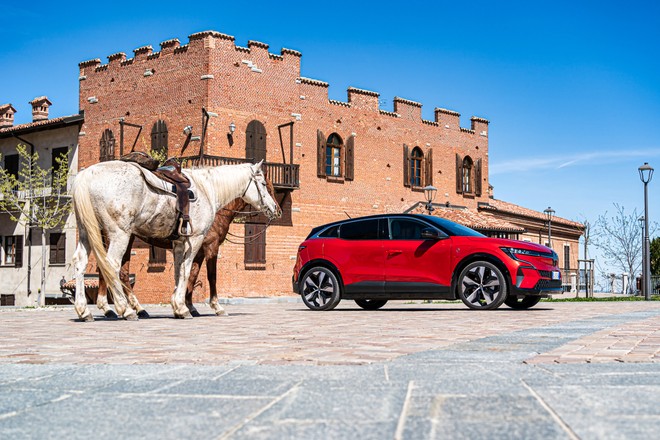 DIMENSIONS
LENGTH: 4,199 mm
WIDTH: 1,768 mm (2,055 with mirrors)
HEIGHT: 1,505 mm
PITCH: 2.685 mm
LIGHT FROM THE GROUND: 135 mm
LUGGAGE: 440 – 1,332 liters (+32 liters cable compartment)
RIMS: 17 ", 19"
TIRES: 215/65 R17 or 235/50 R19
WEIGHT: 1541 / 1.636 Kg in running order
BATTERY: 40 kWh / 60 kWh (400 V), weight 292/394 kg
PERFORMANCE
MAXIMUM SPEED: 150 km / h
ACCELERATION 0-100 Km / h: 10 s / 7.4 s
CONSUMPTION: 15.8 – 16.1 kWh / 100 km (combined WLTP)
CO2 EMISSIONS: 0 grams per km (combined WLTP)
STEERING DIAMETER: 10.4 meters
AC CHARGE (single-phase, 2.3 kW): 21 hours / 30 hours and 28 minutes
AC CHARGE (single-phase, 3.7 kW): 12 hours and 12 minutes / 17 hours and 51 minutes
AC CHARGE (single-phase, 7.4 kW): 6 hours and 17 minutes / 9 hours and 11 minutes
AC CHARGE (three-phase, 11 kW): 4 hours and 23 minutes / 6 hours and 25 minutes
AC CHARGE (three-phase, 22 kW): 2 hours and 10 minutes / 3 hours and 10 minutes
DC CHARGE (130 kW) 1 hour / 1 hour and 14 minutes
WARRANTY: 8 years / 160,000 km (battery)
PRICE: from 36,800 euros
PRICES AND EQUIPMENT
The price starts from € 36,800 up to € 45,300 for the top of the range, Iconic with 60 kWh battery: this is the price range of a car with an 8-year warranty or 160,000 km for the battery and a two-year classic warranty on the 'car. Equilibre, Techno and Iconic are the configurations available for the 40 kWh battery, Techno and Iconic those for the 60 kWh version:
EV40 Boost charge (40 kWh, 85 kW DC, 130 hp)
EV60 Optimum charge (60 kWh, 130 kW DC, 220 hp)
Those who choose the loan can take it home with 36 installments of € 289, an advance of € 11,450 and a final installment of around € 23,000, figures that drop to € 246 / month with an advance of € 7,500 and final installment of € 18,400 using the incentive of € 5,000 with scrapping.
VIDEO