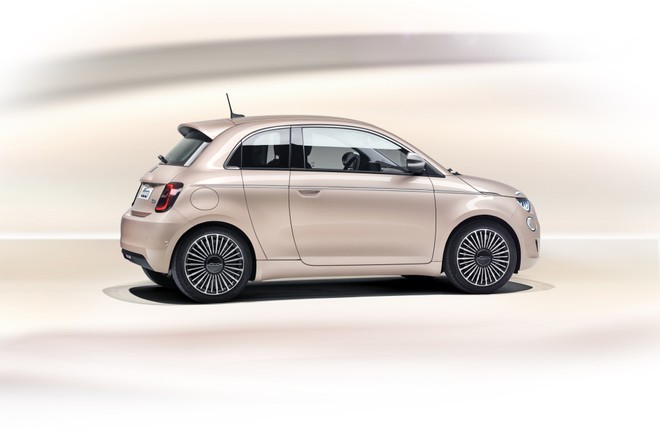 May 2022 it was still negative for the Italian car market with a decrease of 15.1% compared to the same period of 2021. A result, however, better than that of April 2022 when there was a drop of 33%. According to UNRAE, this "small improvement" is due to the entry into force of the incentives in the last days of the month. But to understand how effectively the new Ecobonus will affect the market trend in Italy, we will have to wait for the results of the next few months.
Electrified cars were also affected by this negative trend in May. Only the hybrid HEV models recorded a slight growth in terms of volume (+ 1.8%). Significant decline of 13.2% for electric BEVs. "Better" do the Plug-in PHEV models that limit losses to 3.5% compared to May 2021.
But what were the electrified models best sellers in Italy in May 2022?
TOP 10 ELECTRIC MAY 2022
The 500 electric is once again confirmed as the best-selling electric in Italy with 749 registrations. Therefore, the success for this model continues, which in April 2022 was the best-selling, again among the electric, also in Europe. In second place in the Italian ranking of May we find the Smart ForTwo. At the third, however, the Peugeot e-208. Fourth place for the Renault Twingo E-Tech Electric and fifth for the Dacia Spring.

Absent from this ranking Tesla. As we know, the American manufacturer's electric deliveries are not linear. Overall, 4,489 electric power units were registered in May 2022, equal to a market share of 3.7%.
TOP 10 HYBRID MAY 2022
As always, remember that the ranking of hybrid HEV models also includes the mild hybrids. In the first place we find, as every month, the Fiat Panda that with 10,705 registrations clearly detaches the Lancia Ypsilon which stops at 3,708 units. Third step of the podium for the Fiat 500. Fourth and fifth place for the Toyota Yaris Cross and Toyota Yaris. In the month of May 2022, a total of 41,127 hybrid cars were registered, equal to a market share of 33.5%.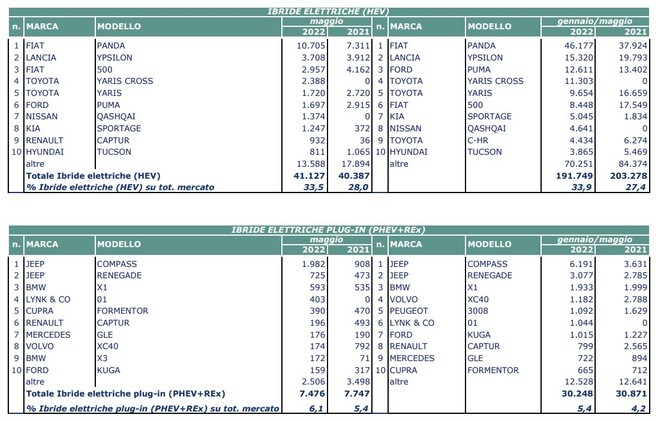 Coming to the Plug-insin the first two places we always find the Jeep Compass and the Jeep Renegade. Third step of the podium for the BMW X1, a model of which the new generation was presented just yesterday. Fourth place for Lynk & CO 01. In May 2022, 7,476 PHEV models were registered in Italy, equal to a market share of 6.1%.
[Fonte dati: UNRAE]
VIDEO