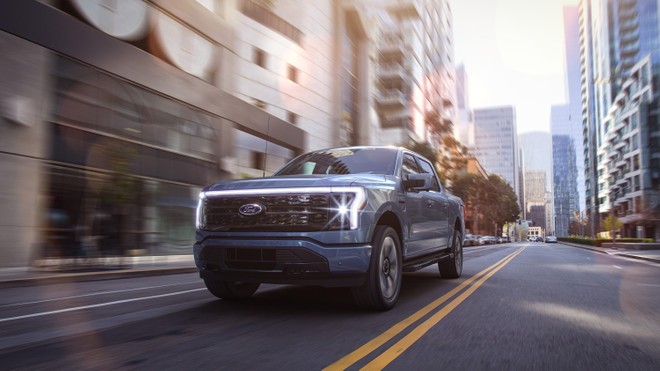 Ford began delivering the first examples of its new F-150 Lightning electric pickup. Apparently, the first delivery took place in Michigan, the US state where the new pickup is built. This model, in fact, is produced inside the Rouge Electric Vehicle Center in Dearborn. For the house of the blue oval the new F-150 Lightning is a very important vehicle for its electrification projects.
The automaker never hid the happened that the electric pickup was collecting among customers. At the end of April 2022, the builder had received over 200 thousand pre-orders. Precisely for this reason, the American brand has worked for increase production capacity of the new F-150 Lightning inside the Dearborn factory with the aim of reducing customer waiting times.
First F150 Lightning Delivery! pic.twitter.com/2C7GTM0HYZ

– oneguynick (@oneguynick) May 26, 2022
Initially, Ford had planned to reach, over time, a production capacity of 80,000 electric pickups per year. Following the many requests from customers, the manufacturer has decided to have a production of 150,000 F-150 Lightning per year by the end of 2023.
THE CHALLENGE OF ELECTRIC PICKUP IN AMERICA
In America, pickups are very popular and those equipped with a 100% electric powertrain are also enjoying great success. Ford, thanks to the new F-150 Lightning, can enter this market as a protagonist, leveraging the success of the endothermic model and its experience in terms of production even if it will take time to fulfill all orders.
Its closest rivals, in fact, are either late or are struggling to bring production up to speed. Think, for example, of the problems that Rivian is having at the production level or Tesla that will start building his Cybertruck only next year. The new electric Hummer, given the price, cannot be considered a direct rival of Ford's pickup. Other electric pickups will arrive on the market but the debut is expected only in the course of 2023.
Ford, therefore, can gain a certain advantage by convincing several people to bet on its new product, rather than waiting for those of the competition.