Google has provided very few details on its future Pixel tablet at the latest edition of the I / O: it is known that it will arrive in 2023, which will be based on the Tensor processor and of course on Android. To say the least fragmentary picture of the technical characteristics, however, a new piece has recently been added: the tablet appears to have been certified by USI and this would allow us to conclude that it will support the stylus.
Please note that the Universal Stylus Initiative was created with the aim of standardizing the specifications of active pens in order to ensure that every accessory compliant with the standard is compatible with all devices certified by USI. Google took part in USI in 20218 with a series of Chromebooks that support the association standard (currently at version 2.0 and featuring wireless charging via NFC).
A SIGHTING AND SOME DOUBT
It seems because there is no definitive proof that the code name of the product (Tangor) spotted in the USI database actually refers to the next Google tablet. What is certain is that the Mountain View house that appears under the heading "Company" is launching it, but at the same time there is no explicit mention of the Pixel brand: in correspondence with the "Model" heading you can read only a generic "Tablet", no reference to the trade name.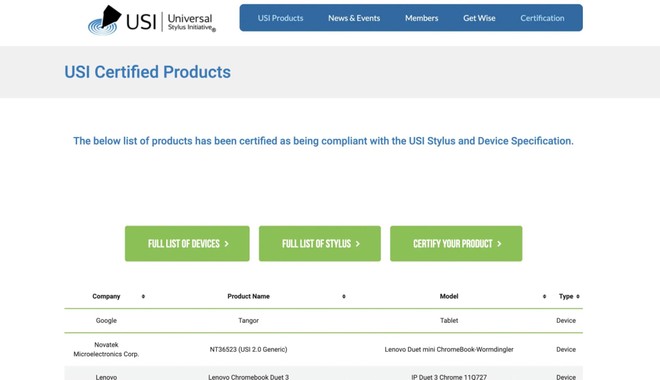 The timing of entry into the database also raises some concerns: as mentioned, the tablet will arrive in 2023, while the certification was granted well in advance.
An indication therefore to be taken into consideration and to be archived until the next – hopefully more consistent – details on the future Google tablet. In theory, the prospect of active stylus support is credible, given that the accessory is now an integral part of the standard equipment of numerous Android tablets (even non-high-end ones).