The new Dacia Jogger is an extremely versatile, multipurpose and practical car, designed for those who need lots of space on board for family reasons – with its seven seats – and / or professional, but does not want to give up the feeling of a real car. It is a bit of a minivan, station wagon but also a crossover, proposing a new type of car that spiritually collects the heritage of the Dacia Lodgy, while raising its perceived quality, without losing sight of the Dacia mantra: the relationship between quality and price. The LPG engine has also been reconfirmed, pending the future full hybrid powertrain arriving by the end of 2022.
NEW PLATFORM
The new dacha Jogger features size rather generous, with 4 meters and 55 cm in length (practically on the border between a C and D segment crossover) but under its "mantle" there is a knowledge of the Renault group. The Jogger is in fact made starting from CMF-B modular platformthe same as Renault Clio and Dacia Sandero, adapted and lengthened, with new rear reinforcement elements, in order to give more space to passengers and, on request, also accommodate a third row of seats up to 7 seats totals. Thanks to large and high wheels, up to 16 ", it enjoys good ground clearance, a good 20 cm high, making it suitable for tackling small dirt roads and modest inclinations of the ground. The CMF-B platform also allows it to keep very low the weightstarting from 1,250 kg for 5-seater petrol versions, up to a maximum of 1,327 kg for models with fuel LPG and 7 places, however a very low value in relation to its length.
THERE'S SPACE FOR EVERYTHING (AND EVERYONE)
And we will immediately begin to talk to you about internal quality, since you may be struck by entering the cockpit. The simple and lean shapes of the Lodgy give way to a rational but well-finished dashboard, with inserts in colored fabric and well done finishes. It inherits a lot from the smaller Sandero, including the generous presence of hard and rough plastics, but solid and functional for a car that goes well even from a professional perspective. On the most equipped Extreme UP version we also find the automatic climate with digital indicators, the display of theinfotainment up to 8 "but there are other non-obvious accessories such as heated seats, keyless access, parking sensors, rear view camera and much more.
Configuring itself as a 360-degree family car, the new Jogger boasts well 24 storage compartmentsincluding the large drawer in front of the passenger, the two pockets in the doors (capable of accommodating bottles up to one liter), the central compartment under the armrest and many others dispersed in the passenger compartment, with well 6 drinks holder. His 2.90 meters of pitch they offer a lot of interior space, a record considering the 4.55 meters in length, to the benefit of rear passengers. These will also have two comfortable ones at their disposal folding tables and a 12V socket. Too bad there are no USB sockets in the back and no air vents. The second row of seats can also be folded down according to a 60:40 pattern or folded vertically to facilitate access to the last row of seats which can accommodate two passengers no higher than 180 cm (in the case of the version with 7 seats) . However, a trunk really roomy: let's go 160 liters with all seven seats upright, moving on to 708 liters in 5-seat configuration. The two extra seats can be folded down, freeing up additional space or completely removed. Without the third row of seats and by folding the center bench, the Jogger has a maximum load space up to 1,890 literswith two meters in length and almost 1.60 meters of useful width.
TECHNOLOGY AS ENOUGH
With the new Jogger, Dacia wanted to insert a generous technological contribution into the passenger compartment to make it a fully accessible car for families, comfortable while traveling and in step with the times. Starting with the multimedia compartment, an on-board computer is standard on the Essential version 3.5-inch Media Control, placed in front of the driver, without a dedicated display in the middle of the dashboard. In this case, it is possible to synchronize your smartphone with the dedicated App and start browsing or managing the musical resource, placing the phone in the appropriate support, located to the right of the instrumentation and equipped with a USB socket (a second socket is available in front of the gear lever). Going up with the Comfort set-up you get the system 8 "Media Display with touch screen, equipped with smartphone connectivity for Android Auto And Apple CarPlay via cable. The system is received from the Extreme UP set-up Media Nav always from 8 " but equipped with integrated navigation e wireless connectivity for smartphones. Taking as an example always the Extreme Up version, more equipped, the package also includes the front and rear parking sensors, the rear view camera, the esp with hill start assistance, keyless access with digital key, cruise control, blind spot monitoring and electronic handbrake. Automatic climate control with digital temperature indication and electrically adjustable mirrors is also available.
PETROL AND LPG, WAITING FOR THE HYBRID
The engine range of the new Dacia Jogger appears simple and rational, in pure style of the Romanian manufacturer. We find a 1.0 3-cylinder turbo petrol TCe with 110 HP and 200 Nm of torque, combined with a six-speed manual gearbox. As an alternative, perhaps the most popular with Italian customers, there is the same 1.0 TCe combined with power supply a LPGwith a maximum power of 100 hp and 170 Nm of torque, always equipped with a manual gearbox with six ratios. By combining the 40-liter capacity of the LPG tank with the 50-liter petrol tank, Dacia declares a 'total autonomy of 1000 km (which we did not have the opportunity to verify in this first test). The motorization will also arrive soon full-hybridprobably inherited from the powertrain from 143 HP already seen on Renault Clio E-Tech Hybrid, Arkana and Captur.
HOW IT GOES, TEST ON THE ROAD
The new Dacia Jogger gathers the most that a modern and light platform like the CMF-B of the Renault group can offer. In fact, despite its 4.55 meters in length, it weighs only 1,250 kg (or 1,320 kg for the LPG versions and with seven seats), thus showing a agile and manageable dynamic behavior. The driving compartment has therefore been revised to make it look like a more compact car than its size suggests. It contains vibrations well as well as lateral displacements, leaving limited roll and pitch. The soundproofing sector is not the best but at around 130 km / h it still seems to do better than the Duster LPG.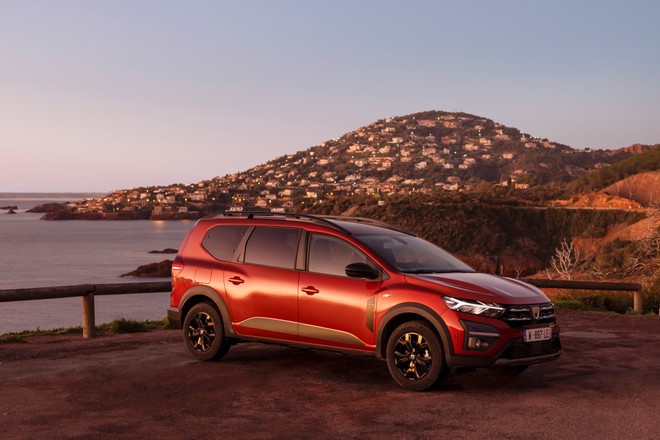 We mainly tried the Eco-G 100 LPG engine, which turned out to be adequate for the type of car, as well as representing 90% of the orders registered to date by Dacia on the Jogger. The six-speed manual gearbox it is not the most fluid, but it works with dignity, ensuring noise management on the motorway thanks to the rest sixth gear. There clutch it could appear not very modular and elusive in first gear, but once in motion the modest performance (13.9 seconds to reach 100 km / h from a standstill) no longer becomes a problem. Indeed, the thrust of the small turbo engine becomes more consistent between 2,300 and 2,800 rpm, where you can appreciate the peak of torque and the energetic thrust of the turbine. However, its behavior in full load conditions and with an access climate remains to be verified.
Speaking instead of consumption, we were not able to get a clear idea of ​​the Jogger runs due to a rather limited and atypical path. We traveled about 80 km between slow-moving extra-urban roads and a small section of the ring road, recording an average consumption of 7.0 liters / 100 km with the petrol-powered engine, while with LPG it achieved an average consumption of 9.5 l / 100 km. In the near future we will also analyze consumption in urban areas and motorways, perhaps at full load.
DATA SHEET
TECHNIQUE
ENGINE: 1.0 TCe LPG
DRIVEN BY NEW DRIVERS: no
POWER: 100 CV (74 kW)
TORQUE: 170 Nm at 2,000 rpm
Front-wheel drive
GEARBOX: 6-speed manual
SUSPENSIONS: Front McPherson, rear semi-rigid axle
DIMENSIONS
LENGTH: 4547 mm
WIDTH: 1784 mm (2007 mm with mirrors)
HEIGHT: 1674 mm
PITCH: 2897 mm
LIGHT FROM THE GROUND: 200 mm
LUGGAGE: 160 liters (708 liters in 5-seater version)
RIMS: 15 or 16 "
WEIGHT: 1,298 Kg (in running order)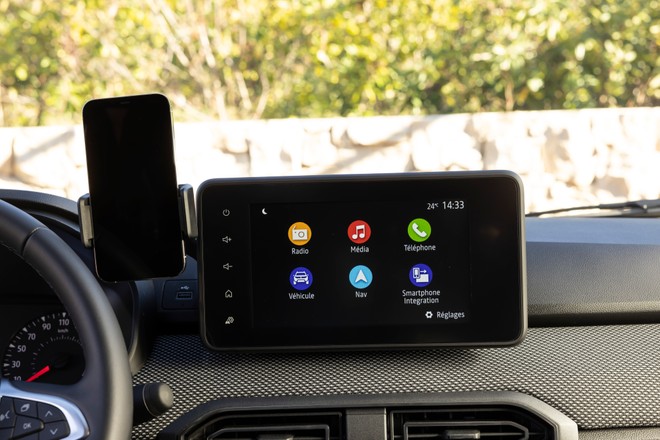 PERFORMANCE
MAXIMUM SPEED: 175 km / h
ACCELERATION 0-100 Km / h: 12.5
CONSUMPTION: 7.7 l / 100 km (combined WLTP)
CO2 EMISSIONS: 118 grams per km (combined WLTP)
PRICE: from € 16.250;
PRICES AND EQUIPMENT
The list of new dacha Jogger attacks from a base price of 16,250 euros for LPG engine in configuration Essential 5 seats, climbing with the Comfort (18,050 euros), Extreme (18,900 euros) and Extreme Up (19,450 euros) trim levels. Petrol Jogger instead starts at 16,550 euros, always in the Essential version, with the same price gap as LPG for the upward set-ups. Versions equipped with seven places they have a surcharge of 900 euros common to all versions, except Essential for which it is not available.
One is currently available promotion call Plus Value Jogger, which discounts to 18,850 (example made for Jogger Extreme Up GPL 5 seats, list price 19,450 euros) with an advance of 3,900 euros and 36 installments of 216 euros per month, with TAN 5.99% and APR 7.62%, with final residual value of 11,086 euros, and you can choose whether to refinance or return the car. The future full-hybrid engine could then be part of the new government incentive program for low environmental impact vehicles.
VIDEO