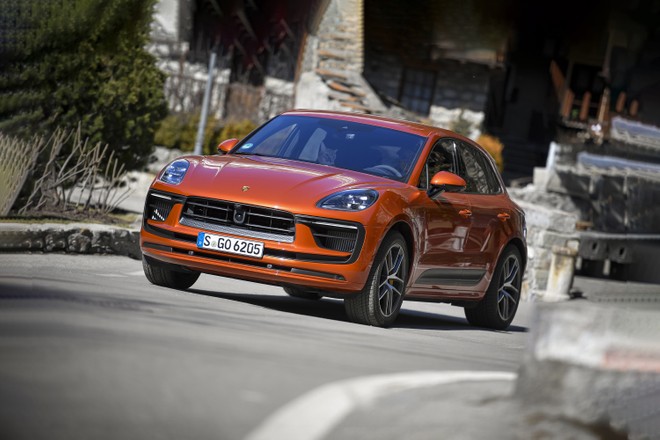 Porsche he strongly believes in the electric in which he has invested a lot. Thanks to the success of the Taycan, the German manufacturer is reaping the benefits of this work. There is therefore a lot of curiosity in discovering what the new electric Macan will look like, the next battery-powered model that the automaker will debut on the market next year. We already know some things about this car, also thanks to a series of spy photos that emerged over time.
Now, the electric Macan has once again been intercepted on the road. The interesting thing is that i new shots show the interior of the passenger compartment. Compared to the past there are far fewer sheets covering the interior and this allows you to notice several things.
INTERIORS SIMILAR TO THE TAYCAN
What can be observed is that the cockpit presents different similarities to that of the Taycan. The digital instrument panel also appears to have the same graphics. At first glance, however, it seems smaller than that of the Taycan. The infotainment system screen can be seen in the center of the dashboard. Below, we find a third display that allows you to manage some features of the car. The big red buttons on the central tunnel, however, will not be present on the production version. These are emergency buttons on the test cars that allow you to disconnect the battery power and the operation of the engines in case of problems.
The new spy photos also show the exterior of the electric Macan. The present camouflage, however, does not allow you to notice much more than in the past. In any case, the cars featured in the shots show some different details. It is possible that these are different variants of the electric Macan.
However, there will be a way to find out more since the debut still lacks some time. Of this new electric SUV we already know that it will rest on EPP platform developed by Porsche with Audi. Thus, the electric Macan will use a platform capable of supporting an 800V architecture that will allow for very high-power charging. For the moment, there are no precise rumors about the powertrain. We only know that Porsche has promised, in the past, better autonomy than that of the Taycan.
[Foto spia: CarScoops]